Mrs Shweta Pankaj, Founding Director of Scholarstree Educare Pvt. Ltd. is a motivated educator, leader and social activist with 14 years of work experience in the area of education as a Mother teacher, Academic Coordinator, and School Coordinator with many national and international Schools.
She has a Bachelor of Education from Savitri Bai Phule, University of Pune and a Bachelor of Computer application from Magadh University.
She is a committed educator with a passion to contribute to the cause of education. Her leadership in the area of education is something to watch for.
In just about 2 years after, its ScholarsTree inception, she has not only set up the Kindergarten foundation for three of its centres but ran many parallel initiatives under the brand "ScholarsTree".
Her initiative to connect with the social cause is eminent with the fact that she introduced 2 seats in all kindergarten classes for the underprivileged sections of society to enable quality education reach to the last mile.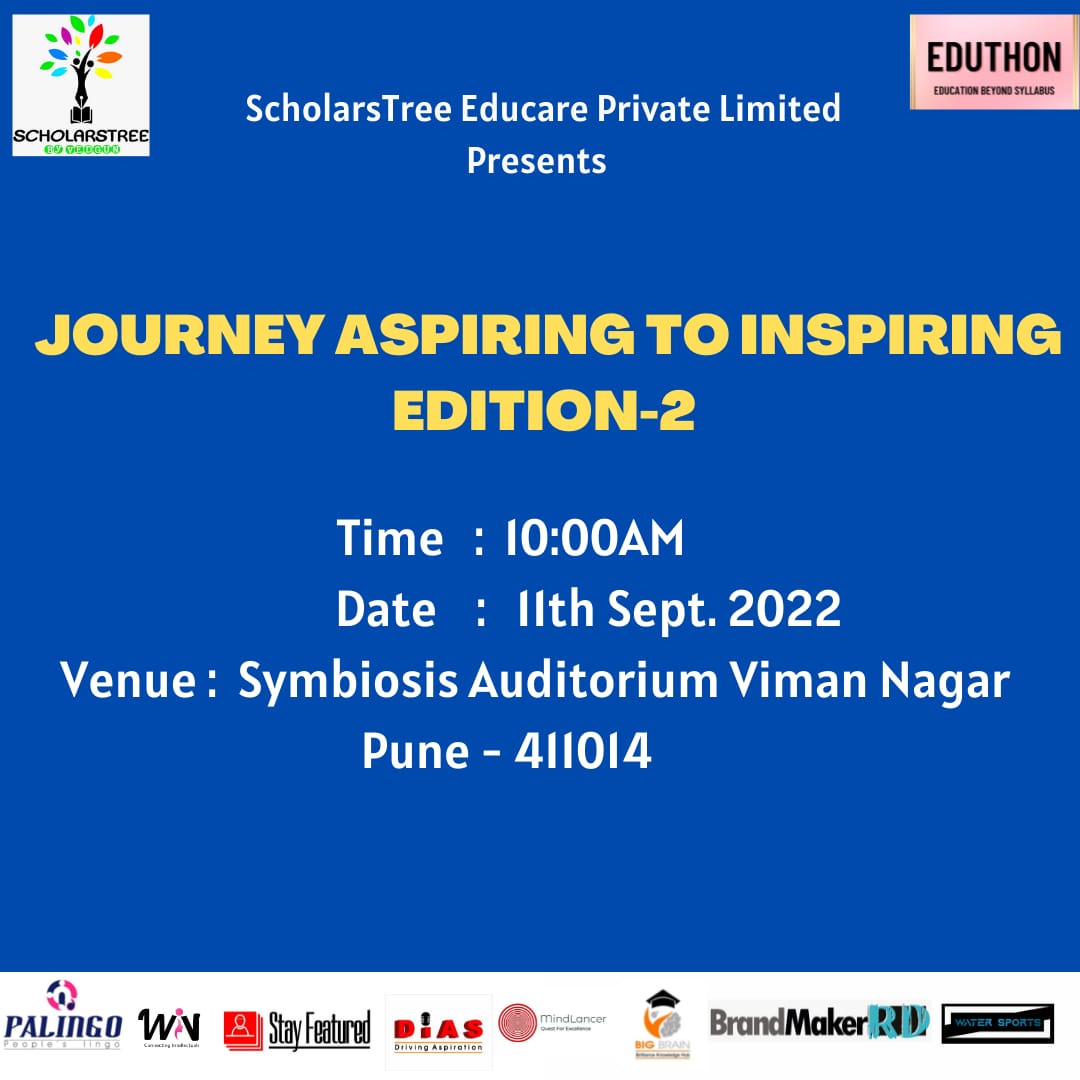 Her innovation in kindergarten education, by introducing a foreign language is one among many that are being well received.
It's first of its kind and is the outcome of her thought process that cognitive skills in early childhood for the language come naturally and something which can be inculcated in kids far easier than at a later age.
Similarly, the platform called "JOURNEY:- ASPIRING TO INSPIRING" is the brainchild of Mrs Pankaj's constant endeavour to contribute to and create platforms for the educational fraternity.
Brief About the event- "JOURNEY ASPIRING TO INSPIRING" is the platform where Educators gather on the occasion of Teachers Day to inspire budding educators by the Achievers in the field of Education.
"JOURNEY:- ASPIRING TO INSPIRING" was launched on the eve of Teachers day on September 4th, 2021 with the idea to deliver due respect to the educators who are the pillars, the backbone of the education system and the building blocks of any vibrant and informed society. They help us lay a firm foundation of knowledge and wisdom.
If we see an educator's journey, it's very simple and straight, but if we see the broader spectrum of an educator's contribution where an educator starts his or her career as an assistant teacher and progresses to the highest post of the institution.
Hence, With the great success of its first edition, 2021, which was online, this year Scholarstree Educare has come again along with the EDUTHON with its 2nd edition of "JOURNEY:- ASPIRING TO INSPIRING".
WELCOME ALL and spread awareness to join the teaching profession to empower each other.
Don't forget to hear some inspiring Stories with the celebration of TEACHER'S DAY on 11th September.
Venue: Symbiosis Auditorium Viman Nagar Pune.

Time: 10:00 am
For this year's edition, The Complete event is
Conceptualized by: ScholarsTree Educare Private Limited, Eduthon Education Beyond Syllabus

Media Partner: Stay Featured

Connecting Partner: Win Connects Win Connects Intellectual Network TM & Palingo

Collaborator: Mindlancer, DIAS, Big Brain Brilliance Knowledge Hub, DIAS – Driving Aspiration

Online PR Partner: Brand Maker RD

Regional News: 'Samruddha Vyapar'

Supported by: Watersports

Special collaboration: Shotokon Karate-do sports association