In a dazzling collision of elegance, innovation, and celebrity allure, the second edition of the Ahmedabad Times Fashion Week 2023 unfolded its wings at the opulent Hyatt Regency Ahmedabad on 29th September, 2023. As Gujarat's premier fashion extravaganza, this event, a proud franchise of the prestigious Times Fashion Week by the Times Group, has firmly entrenched itself in the pantheon of style alongside cosmopolitan giants like Bombay, Delhi, Bangalore, Pune, Hyderabad, Lucknow, and Chandigarh.
At the helm of this captivating affair was the acclaimed fashion maestro, Seema Kalavadia, whose collection 'Vision of Elegance' unfurled as a testament to contemporary couture. Her creations seamlessly wove together classic aesthetics with modern design philosophies, transcending the boundaries of convention. From minimalist lehengas to dashing menswear, avant-garde Indo-western outfits, elegantly draped sarees, and chic skirts, each piece told a unique story. These designs paid homage to tradition while simultaneously heralding the future of fashion.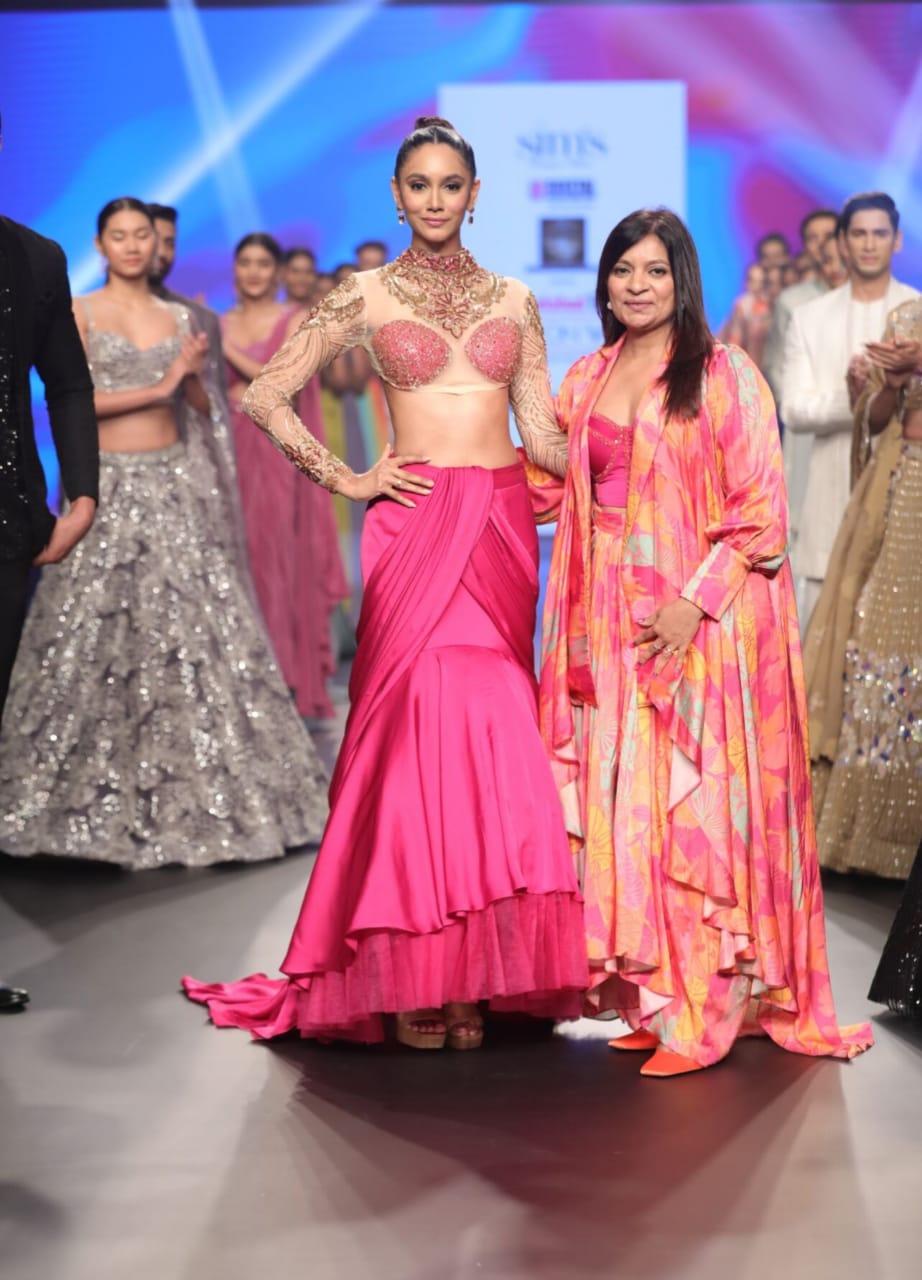 Yet, what truly elevated the evening was the presence of the enchanting showstopper, Sharwita. Known as the Founder & Managing Director of Le Fashion Secret & Model Agency, Sharwita boasts a multifaceted career spanning runway modeling, pageantry coaching, fashion event production, and even holding the esteemed title of Chairwoman of Global World International Pageant 2022. Her magnetic presence and impressive walk left the audience spellbound, adding an extra layer of allure to an already mesmerizing show.
Sharwita herself shared her enthusiasm, stating, "Ahmedabad Times Fashion Week was a spectacular celebration of fashion, and Seema Kalavadia's collection 'Vision of Elegance' was a true masterpiece. It's an honour to have been part of such an illustrious event and to walk as the showstopper for Seema's exquisite creations."
As Gujarat's exclusive fashion event of global scale, the Ahmedabad Times Fashion Week 2023 once again proved that when style meets stardom, magic is bound to happen. This was not merely a fashion show; it was an immersive experience, a testament to the evolving landscape of fashion in Gujarat. With its roots firmly anchored in tradition, Seema Kalavadia's 'Vision of Elegance' was a nod to the past, a tribute to heritage. Yet, it was also a celebration of the future, a glimpse into the boundless possibilities of fashion.
Seema Kalavadia beautifully summed up the event by emphasizing, "Fashion is not just about clothing; it's an expression of art, culture, and the aspirations of a generation. 'Vision of Elegance' is a tribute to our rich heritage while embracing the limitless potential of the future. It's a style symphony that resonates with the spirit of modern Gujarat."
As the lights dimmed on this unforgettable evening, the audience departed with hearts full of inspiration and anticipation for what the future holds for the ever-evolving world of fashion. Gujarat had made its mark on the fashion map once again, and the world was watching, eager to see what brilliance the next edition of the Ahmedabad Times Fashion Week would bring.
Follow on Instagram: https://www.instagram.com/the_simsstudio/?igshid=MzRlODBiNWFlZA%3D%3D